I get inspiration for my columns in all kinds of different places. This week's column on the art of Grillmastery came to me when dear friend and former classmate Rebekah Hubbard started hating on one of my top 5 favorite sausages. Well, hate is probably an overstatement, but she said she didn't like brats. And, given that I respect her palate tremendously and am a frequent visitor to her food blog, PDXfoodlove, I set out to see if I could change her mind. A column happened, and as an added side bonus, I whipped up these old favorites.
Wisconsin Beer Brats with Spicy Mustard Holding Sauce
Brats taste good when they're grilled. They taste even better when they're simmered, grilled, then simmered some more in a holding sauce. The spicy mustard sauce infuses even more flavor into the links and also keeps them warm while guests wait for a commercial during the game, take too long sampling dips or are busy eating their first brat.
INGREDIENTS
For the brats:
10 brats (You'll notice only 5 in the picture because I forgot to buy two packs)
1 large onion, chopped
3 tablespoons black pepper
2 beers (I use Miller Lite — for regional loyalty as well as the fact that I can't taste any difference when using more expensive beer. By all means, though, experiment away)
1 pack brat/hot dog buns (Brat buns are heavier than regular hot dog buns and are better equipped to bear bratwurst. But they're relatively impossible to find in the Lowcountry, so hot dog buns suffice.)
Condiments (Ketchup, mustard, relish, chopped onion, cheese)
Charcoal, grill
For the Grillmaster:
1 beer (or more) (You'll earn it)
For the holding sauce:
2 tablespoons butter
1 large onion, chopped
1 beer
2-3 large cloves garlic, minced
½ cup spicy brown mustard
⅓ cup crushed tomatoes
1 teaspoon black pepper
2 teaspoons cayenne pepper
1 tablespoon light brown sugar
SIMMER DOWN NOW
To begin, put the chopped onion, black pepper and 2 beers in a large saucepan and set stove to medium. Stir the ingredients together and heat until steam begins to rise, making sure not to let it bubble/boil. While this is heating up, go start the charcoal in the grill (Beginner? Make a cone of the briquettes and spread them once they're lit but no longer aflame). Go back inside, and place the brats in the saucepan and simmer for 20 minutes, turning once or twice to ensure both sides get cooked evenly.
Once that's through, it should look a little like this:

GO GO GADGET GRILL
Remove the brats from the beer/onion/pepper simmering stuff and place them on a plate. Pitch aforementioned simmering stuff. Bring the sausages out to the grill, now ready to go, and place them on the grate 7-8 inches above the coals. Grill on medium heat for 15-20 minutes, turning periodically and watching diligently to put out flare-ups with a water bottle (or the beer you grabbed for yourself). Flare-ups will cause the grill to get too hot, which will cause char on the brats and burst casings, which will let out all the tasty juices you've been working to enhance. If your grill has a cover, keep it on when you aren't turning. If your grill is made out of a bucket and has no cover, like mine (my nice one was stolen by grill thieves, something I was not aware existed until a few months ago), appreciate that your grill is made out of a bucket and don't bother covering it.
Your bratwurst should be a nice, dark brown once they're ready to be taken off the grill. If they aren't completely cooked, don't worry: They will continue to cook in the holding sauce.

HOLD ME CLOSER, SPICY MUSTARD
Now, you can make the holding sauce before, during or after you grill the brats. I prefer during, but that can lead to frantic running and a risk of burned brats. So it's up to you.
Saute the onions with the butter in another saucepan (or the same one, you hater of dishes). Once the onions are mostly translucent, add the beer, black and cayenne pepper, brown sugar, mustard, garlic and tomatoes. Stir the mixture and heat it to the same simmer as the time with the beer/onion/pepper simmer, again being careful not to let it boil. Place the brats in the sauce, simmering for at least 15 minutes before serving, although with the heat on, they can be kept for more than an hour or two. I like spicy food, so I added heat to the sauce with the type of mustard and the cayenne. If your palate is one not welcome to heat, use yellow or dijon mustard and skip the pepper, perhaps adding more sugar and/or garlic.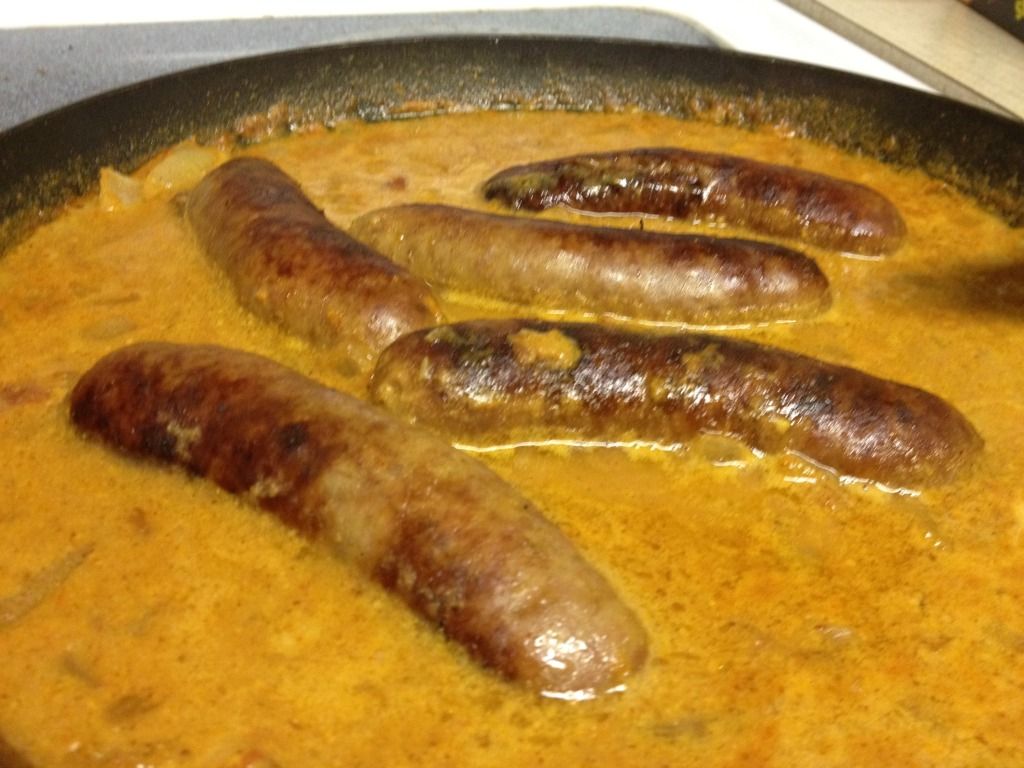 To serve, remove bratwurst from the holding sauce and place in toasted bun. Condimentize, also noting that the holding sauce can be used to top the sausage so long as it isn't applied too liberally (soggy buns, man). If you're going for the full Sconnie (read: coronary) experience, don't be afraid to line the bun with a little cheese, too.
Enjoy. And remember to add something healthy-looking if you're going to take a picture.