Hello, PreGamers. Andy here, with an extensive solo post on one of my favorite foods that I might or might not be considering entirely too carefully.
When writing our column on the 19th annual Lowcountry Soup Challenge this weekend, Jedd posed a question to me that on the surface seems simple: Is chili a soup? It's a yes or no question; answer, and move on to other jokes and witticisms.
I couldn't move on. This very question has bothered me for as long as I can remember having a palate that appreciated things more complex than ketchup. How could I discuss the many factors that go into answering that question in the column's format? There was no space, plus you would have missed Jedd.
So what better place to talk more about the subject than our blog? I put on my food-talkin' pants; here are my totally-appropriate-in-length thoughts on is chili a soup (and if it's not, then what the heck is it)?
The starting point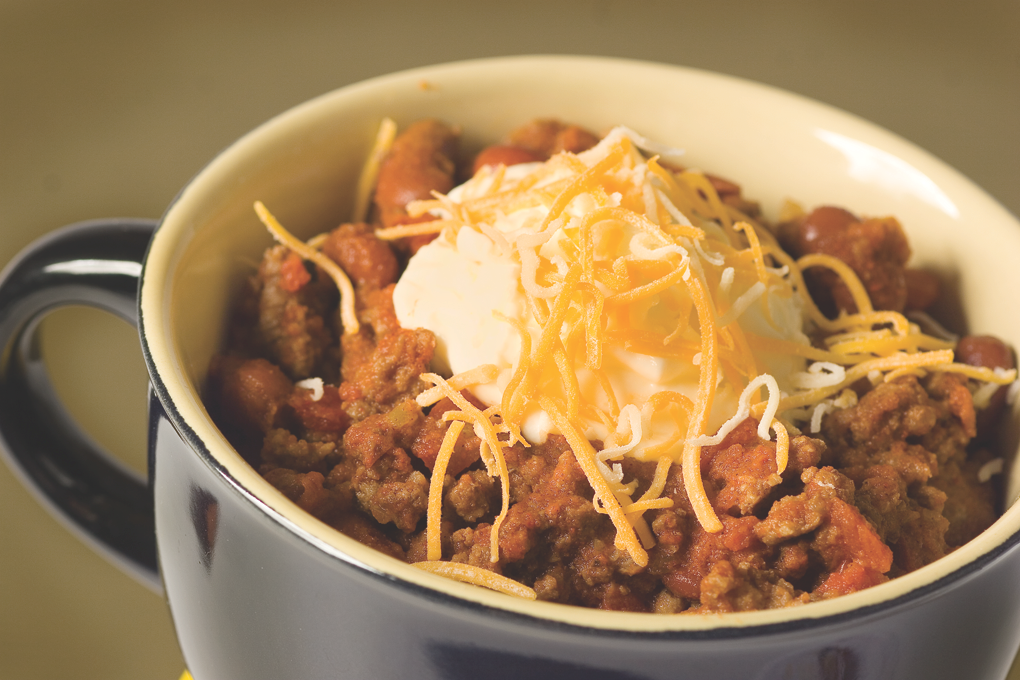 Everyone has had soup before and have their own definition of what it is and what distinguishes it from other foods. I don't claim to have a comprehensive understanding of what everyone considers soup, and I never will. I suppose you could use the dictionary's definition of soup, but that would be dumb. People use a dictionary for spelling, definitions and Scrabble, not to enjoy their dinner. Still, it's important I establish a general standard of soup. When contemplating soup, I am going to suggest that this is what people accept:
• A liquid base made from stock/cream/pureed healthy things
• Eaten with a spoon, with inefficient results coming from any other utensil, especially a fork
• Ability to be served in a bowl, with bonus points if it is made of bread
• Commonly garnished with crackers and/or cheese
• An important remedy in the battling of an illness
• Found on a menu near the appetizer section, pairing well (or if you're Olive Garden, comprising lunch and oh-so-many commercials) with salad
At first glance, chili seems to fulfill all the qualifications on the checklist of soupdom (Who hasn't asked their parents to prepare them a bowl of chili when home from school with a cold?). At second glance, you're probably wondering why you glanced again. But upon further glances that I'll dictate to you, I'm betting you will see cracks emerge in these qualifications — the most delicious cracks ever.
There's a reason for that: Chili is not a soup.
Now that I've dropped the bomb you probably already saw coming (especially if you read this week's PreGame), let me explain myself. I think you'll agree with me, and if you don't, I encourage you to respond.
The 'base' of my argument
(That's a terrible pun. I can't promise there won't be more.)
More so than any other factor, chili's base disqualifies it as a soup. Soups are primarily liquid, and any meats, starches and vegetables in the soup are suspended in the liquid base like delicious islands in a brothy ocean. A scoop of the spoon presents no guarantee in the capture of even one non-broth component of a soup, and often once the components are gone, the soup can be drank. While chili has a base that can be ladled like soup and is usually based on a healthy-food puree (most commonly tomatoes), it is too thick to be considered a soup. The components of a chili commingle and coalesce to the point where every spoonful ensures a scoop of most of what comprises the chili. The dish is by no means homogeneous, but there won't be any instances of the spoonful of a carrot and one noodle that didn't fall off as is altogether too common in soups.
Above spooning
Soup can be enjoyed in a bowl or cup with a spoon. So can chili. If I wanted to be brief with this section, I would simply note that chili can be enjoyed almost as easily with a fork, further distancing it from soup. But that would be doing chili a grave injustice.
One of the most telling factors that separate chili from soup is that it can be eaten with so many other foods. It can be poured on top of noodles — chili mac. It can be eaten on top of a hot dog — chili dog. Chili fries, chili burgers, chili dip … you get the point. Could you imagine putting Minestrone on a hot dog? I can just see a Minestrone dog stand adjacent to the Lobster Bisque fries tent at the next state fair. Chili moves past the spoon more easily than any soup can.
Chili cheese with a Frito on top
Both chili and soups are commonly garnished with crackers and/or cheese for added flavor and texture. I can't think of too much else someone would add to a soup as a garnish, aside from perhaps a splash of hot sauce or a sprig of parsley. On the other hand, I have seen (and for the most part tasted) all of these ingredients added to chili after being served, in addition to cheese and crackers: onions, sour cream, jalapeno peppers, cottage cheese, crushed red pepper, avocado/guacamole (highly recommended) and bacon. While many of those ingredients would be good in a soup, I've never seen them used as garnishes on a soup.
So what is it?
I could continue on the subject, but I'm guessing that at this point, you either have made up your mind or have stopped reading. If you accept my thesis, then we are left with quite the quandary: What is chili? If it's not a soup — which, unless you missed it, I am of the opinion — then where do we put it?
Some have suggested it could fit into the stew family because of its slow-cooked, meaty disposition. While I agree the classification has some credence to it, I side with others (see: Jedd) who have argued that the components of a stew are too large and separate to include chili. Quick test: Does a spoonful of stew yield a sampling of most of the stew? No.
Some have suggested a condimental classification, which I don't think gives the dish enough credit. I would never write this much about mustard.
After plenty of examination of the dish and years thinking about it, I am of the opinion that chili is best defined as a sauce that holds up extremely well on its own. The inspiration for this classification is an Italian meat sauce, which resembles many chilies, but I think holds true for the greater sauce classification. Before you decry me, hear me out:
• A sauce can contain meat, beans and vegetables.
• A sauce is a liquid, and when one spoons a sauce, usually the spoonful will hold most if not all the components of the sauce.
• A sauce can be used in a variety of ways, including as a dip, on top of noodles and on hot dogs.
• A sauce can be sopped up with bread.
Now, there are plenty of sauces out there that don't hold up alone and need accompaniment, such as alfredo and whatever you call General Tso's sauce. I'm also not saying the suggestion is spot-on, as I can't think of any sauces one dresses up as much as chili is dressed up. But I believe the sauce classification is much more apt than the soup one.
Who knows, this could be an exercise in futility. Perhaps chili cannot be defined, cannot be classified. As a close friend who writes for a website that perfectly qualifies him to weigh in told me the other day:
"It's its own thing, like Jell-o. Don't put chili in a box. (It will only leak.)"
I'll heed that advice, as I don't want to stain my food-talkin' pants. Plus, I'd rather put chili in a pot.